Best New Google Maps WordPress Plugin of 2018!
Customize your Google Maps to Skyrocket your Search Engine Rankings
WP Nearby Places lets you easily create Google maps for your WordPress website with your specified location at its center. Website visitors will have the ability to quickly search what's around your specified location like no other mapping plugin that uses the power of Google maps. WP Nearby Places also uniquely breaks down neighborhood locations by categories, such as "Restaurants", "Parks", "Police" and, depending which version you purchase, provides the locations' name, address, URL, website address, phone number and distance (in miles or kilometers) from the central location. There are 3 versions available: Basic (which is free and available through WordPress.org), PRO and Premium (which is offered here). For details about ALL our licensed versions that are available, including our exciting Add-ons, go to https://members.wpnearbyplaces.com/shop.
SHOW-OFF YOUR NEIGHBORS BY CATEGORIES
This Special Offer Will Vanish Very Soon.

Flash Sale for our Premium version ends soon!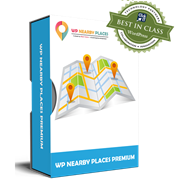 A License Key – It gives you the right to install WP Nearby Places Premium on one website.
The Plugin Zip File – The Premium version plugin will be provided for you to download and store on your computer, so it is available when needed.
Access to the Members' Area – Access your account information in our Members' Area when you log in. Installation and usage lessons along with video tutorials will be accessible to you there. As a member, you will also receive offers and additional discounts when they become available.
Add-on Availability – As a Premium customer, you will also be given advanced notice of add-on availability and special discounts, plus information, including instructional videos, on how to install and use the plugin and add-ons.
All the features of PRO plus some extra advantages and benefits
Marker displays name and address phone numbers and website URL
All details shown on grid-view in bottom bar, including distance in miles
Save and share your favorites stuff
Five multiple options to add dynamic short code
Display up to 3 locations on a single map
Featured neighbors -allows you to show locations of special places in your area
Unlimited Map Creation – Ability to add and manage as many maps as you desire
Ability to choose your map sidebar colors and font colors
Unlimited options to add dynamic short code
Featured Neighbors – The most exciting feature is the ability to feature neighbors on your website and in your maps of nearby places. There are places in any neighborhood where they are the "main event", the main attraction of why someone would travel there to that neighborhood. For instance, a Starbucks nearby is the main attraction for a lot of neighborhoods. A winery, a park, a famous restaurant…
This is a brilliant addition only available in the Premium version that will help improve a map's usefulness while also helping to improve local search engine rankings. We are also working on many Add-ons for Premium users. See Add-ons.
Use Coupon Code: FLASH to Receive a 25% Discount
BONUS: Google-My-Business Training Guide

What Customers are Saying About WP Nearby Places …
<p style="text-align: center;">
<![CDATA[When Al came to me and said he was going to make me a plugin that showed my prospective tenants what was close by my apartment buildings, I thought to myself, wow, that would be great. But I had no idea how great. This plugin has really helped us sell our area where my apartments are located. Great job!]]>
<![CDATA[After using the WP Places Wordpress plugin I was blown away by how many places nearby existed! I found nearly 150% more businesses nearby by just using the WP Places Wordpress plugin!]]>
<![CDATA[This is one of the best software plugins I have ever seen to go along with WordPress. I have a WordPress site and it has always been a bit of a challenge to get everything set up on any Website starting out for me. (I am not a Tech Genious by any means.) WP Nearby Places was an exception to the rule for me. At first glance, though I thought it was going to be another challenge, it turned out to be a bit easier than I had thought it was going to be and gets easier all the time. I love this idea, and how it works. I could not have picked a better plugin to buy for WordPress than this. Thank you for building this and making the platform so much more improved. Joy Ferrence]]>
<![CDATA[It is not every day that a unique, first of its kind, plug-in is created. Congratulations to Albert Harlow for taking an idea from the past and modernizing it for today. There are enormous possibilities in marketing and SEO, tourism, civic activity and more with this innovative plug-in. I personally cannot wait to try it!]]>
<![CDATA[This makes exploring any new area a breeze and totally exciting to boot. Like having a crystal ball. Knowing where to get the best pizza and see a movie. Syncing into the time frame of all the venues. All in real time - no longer just paper maps. See what and were is all happening. A virtual time machine on Google maps. See it all before you get there. As a matter of fact, I have just made an inquiry and got an almost immediate answer to my question. Fabulous menu, but what is arugula lettuce? This is so amazing a plugin to live for. I was browsing the menu at a Pizza Parlor and asked what was arugula? Got my answer really fast. Arugula is Lettuce. I am so sold on this and love google maps. I'm already using it to navigate the world. Even in Bangkok. Hi there! You have reached Slice, the online platform. Arugula is a leafy green. Can you let me know what restaurant's menu you are browsing? Thanks, La Dolce Vita you have been very helpful.]]>
<![CDATA[The more I look at WPNearbyplaces the better it gets. So much work has gone into developing this plugin and it will be a big hit. Number one, it provides value linking the real and digital worlds. I personally navigate my hometown Bangkok using GM and nowadays I don't get lost. I used to. And that was very scary. This will be a boon to finding all those hidden places. There is so much to see and do. WPNearbyplaces is the answer. Tourism is a booming business. Traveling is one of my most favorite past times. WPNearbyplaces answers so many questions taking all the stress out of traveling. No more spinning wheels and getting nowhere. This is a red hot winner so good to be on board.]]>
<![CDATA[I am really excited to use this powerful plugin. WP Nearby Places is going to take the business by storm, as it will engage visitors and will help them to get more services from you. They will come time and again to find some more places and your website will become a hub for them to find all nearby places.]]>
<![CDATA[I've always had trouble locating places, but thanks to this amazing plugin, I easily find my way especially when I am looking for where to have lunch or a hotel. This is totally a game changer. Kudos!]]>
Key Features of WP Nearby Places Premium

Center Your Location
Make your address the center of the universe on a Google Map, where everything revolves around you!
Categorized Places
All the different types of places are categorized so that finding what you're looking for is a breeze!
Featured Neighbors
Use this special feature to display neighbor places near your location which may not appear normally on Google Maps.(Available in the Premium version only.)
Increase SEO Ranking
In Premium version, Featured Neighbor can increase your SEO Rankings by encouraging Backlinks.
Developed Especially for Mobile Use, For People On the GO!
See where your closest bank is & get some money fast!
Jump up and go to the movies right around the corner!
Find where to drop off your laundry on your way to work!
Get a bite to eat at a local bar and meet your neighbors!
Brought to you by Albert Harlow & Sons, Inc.
"My career has been spent developing new inventive products and services. My recent focus has been delivering superior I-T products and services by Click IT. My personal goals include continuing to bringing value-driven offerings like WP Nearby Places that make a positive impact on our daily lives." Learn more at
https://albertharlow.com
.
WP NEARBY PLACES IN NO WAY IS AFFILIATED WITH GOOGLE, WORDPRESS OR ANY GOOGLE OR WORDPRESS ENTITIES. ALL TRADEMARKS AND LOGOS ARE THE PROPERTY OF THEIR RESPECTIVE OWNERS. *All transactions, sales, and guarantees are governed by our
Legal Statements
.
*
Please Note:
"Skyrocketing your search engine results" is a projected claim we make as a natural result of when good SEO practices are used as encouraged by using the Premium version of WP nearby Places and featuring your neighbors. More details are provided inside our membership area. Membership is free. Go to
https://members.wpnearbyplaces.com
and register today.
© Copyright 2018 Albert Harlow & Sons, Inc. - Protected under the Copyright & Trademark Laws of the United States of America.
WP Nearby Places is Patent Pending. All Rights Reserved. Owned and Operated by Albert Harlow & Sons, Inc.